We (Mason & I) had a discussion about his birthday which is coming up in September - I know, it's over 3 months away but those months go quickly! - and when given a bunch of options decided he wanted a super hero party. More specifically Superman , Spiderman & Batman :)
Last night I spent a little bit of time looking up ideas for cakes and invitations and there are some great ones out there! Clearly I'm going to have to incorporate red, blue, yellow and black... no problem (ha!)
Here are a couple cakes & invitations that are fantastic (but I saved the best for last... ):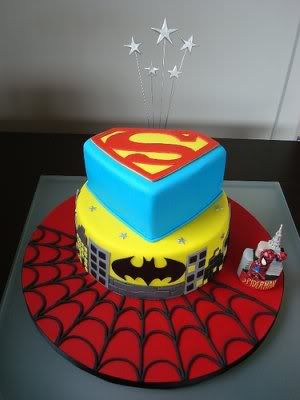 source: greatwhitesnark.com
and matching cupcakes!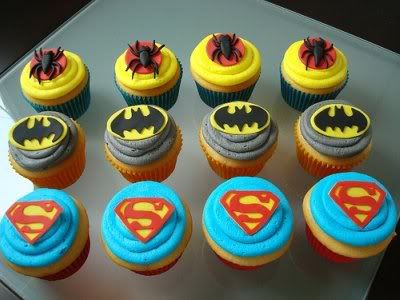 greatwhitesnark.com
source: clarasdesignercakes.com
Look at some of these invitations!
ghosthousedesign.com

source: birthdayparty-invitations.com


source: ? (google images)



source: silly little goose (etsy shop)
source: silly little goose (etsy shop)
Now... check out this whole birthday design from Etsy seller Anders Ruff Custom Design (I'm in LOVE!!!) that one half of the dynamic design duo created for her son's 3rd birthday:
Invitation
Kids' place settings & lunch boxes - notice the custom water labels in the background!

The birthday table

That's just the tip of the iceberg, read about the full shindig on
Hostess with the Mostess
. It's insane and I love it! It has such great details. I have some ideas of my own as well. Eeeeek - so much fun!
- Jacs